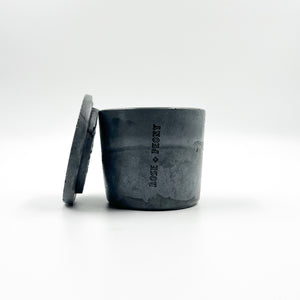 Reference our scent page for the notes of each scent.

3.4" high (with lid)
3.5" wide
1 cm thick
Holds 8.5oz of wax


Candle care:
~After each burn trim your wick to ¼" on cooled wax.
~Your candle should burn until the wax at the top has formed an even liquid (typically between 2 and 4 hours) to prevent uneven burning with future uses.
~Do not burn for longer than 4 hours or else you may experience the wick "mushroom" which causes a larger candle flame and an uneven burn.
~Never leave a candle unattended! The more the candle burns the hotter the temperature at the bottom of the vessel will become. Place vessels on burn-proof surfaces. 
~Due to the handmade nature of our production process there will be slight variances in the shape, color, and size of each candle vessel. All vessels are made from concrete. Cracking can occur if the vessel gets too hot. Oil spots on the outside of the vessel are normal as concrete is a porous material.