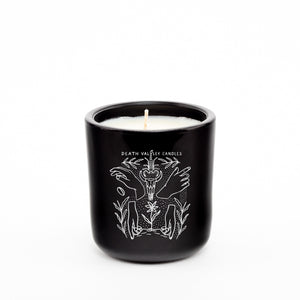 The limited edition Desert Gardener candle. This candle comes in an 8oz black glass jar and is filled with soy wax. The burn time is up to 40 hours. Reference our scent page for the notes of each scent. 
Candle care:
~After each burn trim your wick to ¼" on cooled wax.
~Your candle should burn until the wax at the top has formed an even liquid (typically between 2 and 4 hours) to prevent uneven burning with future uses.
~Do not burn for longer than 4 hours or else you may experience the wick "mushroom" which causes a larger candle flame and an uneven burn.
~Never leave a candle unattended! The more the candle burns the hotter the temperature at the bottom of the vessel will become. Place vessels on burn-proof surfaces.